This week has been amazing with the release of the new products that Urban Botanic is launching. This company never ceases to amaze me. With every question that I have...with every problem that I can't solve...with every celebration that I share...someone is there to listen!
So, I wanted to sit down and reflect on my last two months with UB and Blog about the top ten reasons that I love being a Urban Botanic Fragrance Designer!
Reason Number

I love this business because I don't have to ship products, deliver products and my customers don't have to pay shipping. I arrive at my workshops with the product and leave
TEN
times lighter. My customers leave with their products that day! We're all happy!
Reason Number
My personal favorite product is the lotion! I believe the
NINE
nourishing ingredients make for an amazing product! (Protective grape seed oil, soothing avocado oil, nourishing jojoba seed oil, nutritive shea butter, conditioning aloe vera, vitamin A, vitamin C, vitamin D and vitamin E)
Reason Number

The
EIGHT
ounce bottles of lotion, bubble bath, and shower gel are so generous for the price. The quality is amazing. I can proudly sell Urban Botanic products without feeling like I am pushing products that are of poor quality!
Reason Number

There are
Seven
things that I absolutely love about my Urban Botanic virtual office: Campaign Manager, UB Library, My Shopping Cart, Order Tracking, My calendar, The Monthly News Letter and my Commission and Sales tracking!
Reason Number

The
SIX
scent families: Herby, Fruity, Spicy, Floral, Leafy and Woodsy. How awesome that the personality test can determine your scent family. It puts such a fun twist on an already cool experience. I love the reaction of my customers when they connect with their scent family and create something that they love!
Reason Number

The
FIVE
people in my family (Hubby and four kids) ... I love this business because it allows me to work around my family time. I am able to control my own schedule instead of my schedule controlling me!
Reason Number

The
FOUR
products...
The perfume is so silky and smooth
The shower gel is thick and lathery
The lotion is unbeatably moist and rich
The bubble bath has endless bubbles!
Reason Number

I love the Urban Botanic
THREE
prong slogan: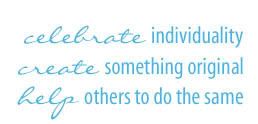 Reason Number

Shawna and Kelsey!!! I have
TWO
of the most wonderful up-line Sponsors! I love the support, the encouragement and the assistance that they are always willing to provide.
Reason Number

THE NUMBER
ONE
REASON THAT I LOVE URBAN BOTANIC IS THE PEOPLE! Every single person that I come in contact with has been amazing! My fellow Fragrance Designers are creative, bright and so passionate! The ladies at our Corporate Office are so helpful and efficient. And each and ever customer is unique and create a
ONE
of a kind, unique product! The people are simply FABULOUS!